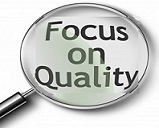 IQM had collaborated with many organizations and governmental agencies like SIRIM, Department of Standards Malaysia (DSM), MAMPU, NPC, and other NGO's like the COSTAM (Confederation of Scientific and Technological Associations in Malaysia) which had 32 other organizations as members.
IQM sits on the Malaysian Standards and Accreditation Council (MASAC), the policy council of DSM, several national organizations at SIRIM to draft the various ISO standards.
IQM (and MRCA, its other registration arm) work closely with MAMPU to register quality consultants and practitioners, quality auditors (much like IRCA in UK) to ensure certain measures of control for our quality practices in the country.
The MOF (Ministry of Finance) requires consultants in quality to be registered with MRCA and IQM before they are eligible to tender for governmental quality jobs. IQM also encourages net export of our quality services (quality consultancy and auditing) to the Asean and South East Asian countries.
IQM has held the first Asean Accreditation Forum (AAF) and other National and international quality conferences in Malaysia.
There were many other activities undertaken by IQM (and MRCA) within the country. IQM was also a member of the Asia-Pacific Quality Organization (APQO) consisting of membership from national quality organizations from the USA, Philippines, Singapore, China, Taiwan, Thailand, Vietnam, Mexico, and many other countries in the Asia-Pacific region.
IQM was the auditing team that sent two winning entries (namely SJMC and Tabung Haji) to the first Asia-Pacific Quality Award (APQA) competition in 1998.
The Rules and Constitution of Institute of Quality Malaysia has been approved by members at the 18th Annual General Meeting held on 25th April 1998 and the Extraordinary General Meeting held on 7th November 1998 of the Institute of Quality Malaysia.